WCAG mode for accessibility
With Netigate, you can also create accessible surveys according to WCAG. This means that, for example, people with impairments or disabilities can complete the surveys.
To make your survey accessible, you need to enable WCAG mode in the survey settings.
What we support
Netigate's accessibility mode currently supports the following question mechanisms:
Radio buttons
Checkboxes
Free text fields
What we don't currently support
Accessibility mode currently does not support the following question mechanisms or supports them only to a limited extent:
Question type: "Media". Reason: Netigate cannot ensure that user-inserted media is accessible (subtitles, etc.).
Matrix
Star Rating (conditionally supported)
Slider (conditionally supported)
More detailed information can be found in our "Statement of Accesibility".
How to enable
Locate the Survey Settings for your survey in the navigation bar. There is an Enable WCAG mode-setting under the section Distribution that can be toggled on.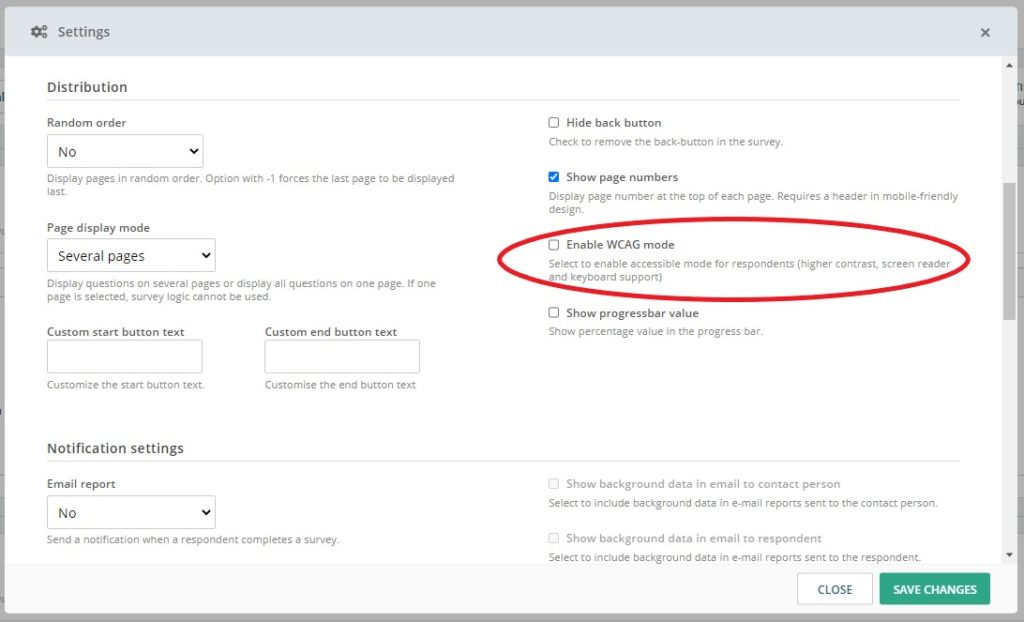 Once toggled on, when the respondent visits the survey they have a WCAG-button visible at the top right corner to enable WCAG if they want to. This will result in a high-contrast template being applied which makes it easier for keyboard and screen readers to navigate the content.

Contact our customer service team if you need further help or have any feedback.