Manage Layout
To build your own report you can hide or change order of questions through the Manage layout-menu inside your report. When working with the report you will be provided with a pre-defined report where all questions and answers are displayed.
To access this menu, you will find the option called Manage layout in the left-hand menu.
Don't like to read? Watch the video tutorial instead:

What can I do in Manage layout?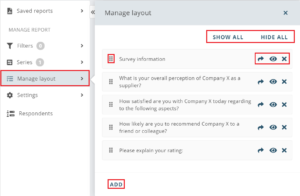 In this menu you have four different options to choose from, all presented with their own symbol. All changes that you do in the Manage layout menu are in real time and you will be able to see the results of your action immediately.
– By pressing this icon you will jump directly to that question in your report. This is an easy way of navigating through the questions without having to scroll to the question that you want to view.
 – By drag-and-drop this icon you can move a question in your report. Press your left mouse button and hold it while you drag the question to the position where you want it to be displayed. You will see an area open up where you can drop your question.
 – By pressing this icon you will hide the question from being displayed in your report. It will still be in your list of questions, but it will not display any data in the report. Just click this icon again if you want to make the question visible again.
 – To remove a question completely from the report you can click this X icon. Once you have removed the question, it will no longer be in the list of questions and will not be displayed in the report.
Add questions and metrics
By clicking Add you will get another menu where you can select to add a question or a survey metric to your report. For example you can add a question that you have previously removed, or add a presentation of answer frequency to your report. Just click the questions or metrics that you want to include in your report and then press Add. Everything that you add will be placed at the bottom of your report. To move if, use the drag-and-drop function explained above.